14L Eco-friendly Healthy Housedold Mineral Water Pot
14L eco-friendly healthy housedold mineral water pot
Product specifications:
| | |
| --- | --- |
| Item | mineral water pot |
| Material | ABS, AS |
| Weight | G.W:3kg; N.W:2.5kg |
| Filter | Ordinary shell activate carbon |
| Ceramic | a ceramic |
| Tap | Ordinary tap with nuts |
| Capacity | 14L |
| Inner box | 28.5*28.5*23C, G.W.:3kg |
| Outer carton | 87*30*49CM |
| Package | 1/pc color box, 8pcs/carton ; G.W.:19kg |
Popular design, easy for drinking clean water,

with 7 grade filteration system.

Dome korean ceramic filter

Five-layer Cartridge material: Activated Carbon, mineralizing ball, resin, mineral stone, Sand Quartz as per your choice.

Mineral stone container
Five Steps Filtration:
* Ceramic Filter:
The ceramic filter diameter is 0.2-0.5 micron (diameter bacteria is 0.5-1.0 micron.)

Its function is to filter all dirts, sand, bacteria, to give you water free from any dangerous diseases such as float,

typhoid,chlorine,heavy metal etc.
* Activated Carbon:
Removes Chlorine, THMs, Organic Chemicals and unpleasant odor and colors resulting in pure,

crystal-clear mineral water.
* Mineral Stone:
Mineral stone are mined between 330 and 600 meters below sea level on an unpolluted resources.

The mineral stonecontain Germanium which promote health and prevent cancer.

Germanium also absorbs heavy metal, toxins, odor and impurities,

they continuously release more than kinds of ionized minerals for 5 years,

gradually depleting in size.

The highly porous mineral stone aid in the oxygenation of water

and in the adjustment of the water to mild alkaline.
* Silica Sand:
Removing acidic components from the water and thereby brings about a pH balance.
Features of mineral water pot:
1) Easy to use
2) Super purifying function
3) Fits most water dispenser
4) No second pollution
5) Reduce impurities from tap water
6) Make mineral water after purification
7) Ideal for office, school, college and home use
8) Filter can be used continuously for 6 months
9) Easy to disassemble the filter and clean it
10) Customer's brand could be silk-screen printed on the goods
11) With direct faucet for easy water fetchin.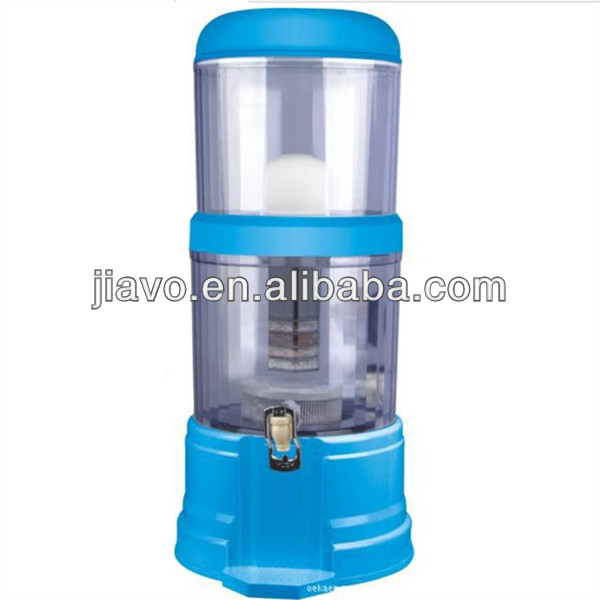 Package showing:
Other models of mineral water pot: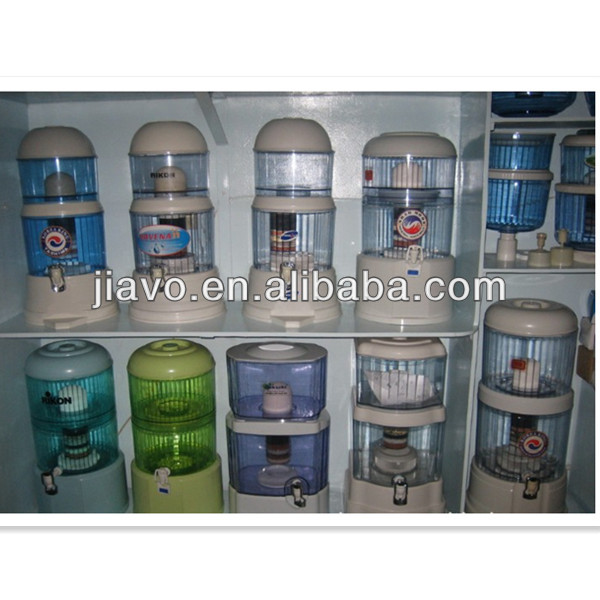 Reminding:
Rinse the filter cartridge, filter a bucket of water,
do not drink the first bucket of water, start drinking from the bucket.
If there is a small black carbon particles,
do not be nervous, soak the filter cartridge into the water, while swinging around,
shake out the small toner, toner out until basically no date, then you can normally use.
Similarly, white ceramic filter, washed with water,
using a soft cloth to clean the surface of the powder.